Trømso area is really popular touristic destination well known för Northern Lights, Atlantic Ocean, beautiful landscapes… and during the summer for The Midnight sun.
Explore the town
The town is small populated area surrounded by the sea and mountains. It's located in the far north of Norway. There you can find everything you need for good vacation and adventure. Hotels with different standards, hostels and other kind of alternative ways to stay are available. Even restaurants, coffee shops, groceries and other modern facilities…
The main harbour is the a good place to start exploring and prepare for night photography. The main reason of exploring before the event is to know where to go when Aurora start dancing for you. From my earlier years I usually waited at hotel, restaurant or pub and then run outside to photograph. Believe me or not but you will find many others doing the same. If prepared you will have all perfect spots already marked on your phone or other GPS based devices. You will even cheek app of your choice with Aurora predictions from time to time. Usually they can give you some accurate predictions 30 min in advice which is more then enough for you to go out and take the best spots. On that way you will have more successful night with perfect photos.
Explore landscape and surroundings
If you are interesting in more than just urban photography you will start with similar preparations as in town. In this situation it would take more time, rented car and some extra work in advice. You can start at your home by exploring the internet with useful informations written by others who already visited those areas. You can see their photos and plane your own. Find and Mark all of them on your phone map application or GPS.
If you will arrive in the evening and don't have time to explore during the day, then you can enjoy the view just outside the airport gates. It's even nice alternative for those who wants more than just photos from town, and don't need to drive long distances. Even if the predictions doesn't look promising and you still want some good sceneries.
In order to visit all interesting places around (approximately few hours drive in each direction) you will need more than one week. Don't forget that during the fall and spring time the daylight are much shorter the usually and few months in winter with no sunlight at all.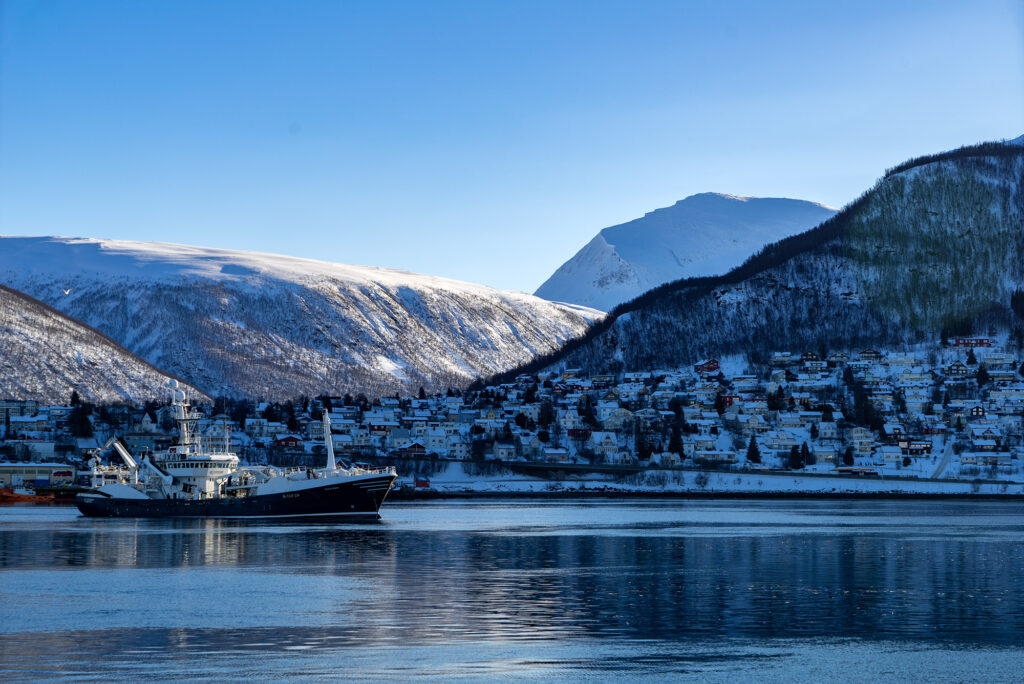 The light pollution matter
The light pollution matter a lot when photographing Aurora Borealis. Tromsø town has a lot of street lights but you can still get good photos. Best experience is without any artificial lights including the Moon as well. But because of really high position (round 70 degrees north) you will sometimes see Aurora not just at the north part of the sky, you will see it above your head and all around you.
Heaving this information in mind you still need to avoid light pollution and all places south of the town. I like the most areas North-south and west of the town and all the way to the sea. There you will find beautiful islands, mountain peaks and natural harbours called fjords. Even small fishing villages with boats as alternative foregrounds. The climate is kinda milder and few degrees warmer than at the middle of the islands or up in the mountain highs. Further away from the water its more snow as well. During the winter times when its lot of snow you will be limited to only cleared areas close to the roads. Otherwise you will need special equipment to walk on the deep snow or to rent snowmobile.
The third option to recommend
The third option is to explore the town by your self and then travel organised with some of the local travel agencies. They all have Northern Lights trips organised almost every evening during the season. Even so use both weather and Aurora apps and follow predictions before you book any excursion. On that way your chances of spending the money without any action are much more lower than just booking and expecting the best. If time is the issue then you don't have a choice and has to take a chance.