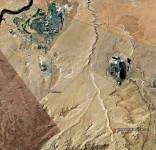 Antelope Canyon Map (upper part)INFO: Antelope Canyon is located on Navajo land near Page, Arizona. It includes two separate canyon sections known as Upper Antelope Canyon and Lower Antelope Canyon. The Navajo name for Upper Antelope Canyon isTse' bighanilini, which means "the place where water runs through rocks." and was the place of my visit.
YEAR: Summer 2010
STORY: After a long trip by car from Flagstaff we arrived in the little town Page. It was the day before we had planned to visit Antelope Canyon. After a short drive around the town we decided to find a place to eat and sleep. Our plan was to spend two days in this area and on the third day continue our trip to the next destination. Antelope Canyon was located approximately 10 km from Page and it was easy to find by following the signs or using a GPS.  We arranged to take part in the "Photographer's Tour" which would provide some benefits, but of course was double in price than the regular ticket.
We arrived at the entrance of the canyon the following day and there where a large group of tourists waiting. It was a really hot day and almost the entire group tried to squeeze in under the small tree roof just outside of the little ticket shop hoping to find some shade. Our tour started around 10:30 AM and we where divided into different groups. Our group comprised of twelve participants including the two of us. In order to reach the entrance of the canyon we where transported by little trucks for about 5 km. It was already lots of people inside the canyon because of several other companies operating at the same time. I got the feeling that this place was really exploited, and I was told by another guide that around 1500 visitors pass through there every single day during the season.
Temperature inside the canyon was a lot cooler than outside, but still hot enough 🙂  We hurried through the canyon which gave us quite a small window of time to take our shots. Our guide explained that we where going to return to some parts of the canyon later on and take shots of the well known light beams. Beams occur most often in the summer months, as they require the sun to be high into the sky. There where several other groups of photographers beside ours, and this meant very little space to set up your equipment, at least for us who had cameras on a tripod. The beams only appear and passes through the canyon for a few minutes, and so there is not so much time to make the perfect shot. You have around two to three minutes to make your shot and then you need to leave your position to another group of photographers.
Inside the canyon it was quite dark and when the light beams appeared we could see them clearly, but not as you can see them on many shots on the Internet. The way to make them look like they are glowing is by throwing sand into the beams, then they start to glow for a few seconds or while the dust is still in the air. The sand throwing technique performed by the guides takes a few minutes every time, and this makes your time to photograph even shorter, and also it is not very healthy for your photo equipment.  Considering all circumstances I have few words of advise:
– You need some sort of camera and lens protection
– Chose only one lens, since it is not a good idea to switch lenses in a dusty place
– It's not so much space inside and therefore a UW lens is a good option, I used EF 16-35mm L USM II
– EF 24-105mm L IS USM can work too if you like to zoom on smaller areas
– It is quite dark inside and usage of flash is not allowed,  and you need a tripod if you want to use low ISO between 100 and 200. I used ISO 100, F/8 and a few seconds of shutter speed depending on light (when light beam was present)
– It is plenty of visitors inside so make sure you are in the front of your group, otherwise you will loose the opportunity of shooting when the guides have temporarily cleared the passage
EQUIPMENT:
• Camera: Canon EOS 5D Mark II
• Lens: Canon EF 16-35mm F/2.8 L USM Mark II and Manfrotto tripod and head.
PHOTOS: 
Aditional photos can be found in the main gallery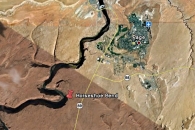 Horseshue Bend map INFO: Horseshoe Bend is the name of a horseshoe-shaped meander of the Colorado River. The place is located 6 km south of Page, Arizona.  The bend is locally known as "King Bend" and is located slightly downstream from the Glen Canyon Dam and Lake Powell (see the the map for more info).
YEAR: Summer 2010
STORY: Horseshoe bend was on my list to visit during the summer trip to Arizona. We spent a few days in the little town Page in one of the many hotels located on the main street. The weather was really hot giving us only two options of visiting the place, early in the morning or late afternoon.  July 12, 2010 was the day when we decided to visit. It was a hot afternoon (over 40C) with some clouds and chance for rain.  After 15 minutes of driving we reached the parking area with lots of parked cars. To reach  final destination we had to walk around 1 km following a little sandy road. After 15 minutes of walking a truly amazing view appeared. There was a few points where you could take pictures  with different angles, and I made a few test shots to find the best position and best setting for my camera. I always use manual settings and sometimes it can take a little bit longer to find the best possible solution. I took about 50 images before the sun reached really low, creating strong shadows and the rays was pointing directly towards me. We decided to explore the area and make a few more shots before leaving. If jou plan to wisit the place during summer, then I strongly recommend that you bring water, a hat and comfortable shoes.
EQUIPMENT:
• Camera: Canon EOS 5D Mark II
• Lens: Canon EF 16-35mm F/2.8 L USM Mark II with circular polarizing filer; Canon EF 15mm F/2.8 Fisheye;