Posts Tagged 'Native American'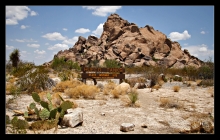 Hueco TanksINFO: Hueco Tanks is an area of low mountains in Texas, USA. It is located in a high-altitude desert basin between the Franklin Mountains to the west and the Hueco Mountains to the east. Hueco Tanks State Historic Site is located approximately 32 miles (51 km) northeast of El Paso, Texas, accessible via El Paso's Montana Avenue (U.S. Highway 180), marked by road signs.
YEAR: Summer 2006
STORY: This little park area was known for its many stories and it's rich bird life, and was therefore on our visiting list for this summer. It was a really hot morning with a clear blue sky and perfect for our little trip. After breakfast we packed our car with my camera equipment, water and some good stuff from the local bakery, and our adventure began.  We had a tourist map with not so much details on, so we had some difficulties to find the way from the main road. We where under the impression that the distance was going to be wast, so we continued straight ahead in full speed until we saw nothing but desert land around us. A couple of militarise guarding the road to the desert land waved us aside, and asked where we where going. We said that we where looking for Hueco Tanks, and they laughed and said that we passed it miles ago, and that the way we where heading was leading straight into the desert. So we turned around, and strangely, it was much better marked coming from this direction, so we finally found it.
We where informed at the entrance of the park that before we where allowed to walk around in the park area we first had to watch a short video and obtain some instructions and rules. Considering that we had problems to find the place and then had to go through all the breefing and the video which took even more time, we ended up being ready to start our walk in the middle of the hot day, which wasn't exactly how we had planned it. It wasn't so many trees in the park to provide enough shade, therefore our time spent in the park was a bit shorter than previously planned.
EQUIPMENT:
• Camera: Canon EOS 20D
• Lens: Canon EF-S 17-85mm  F/4,0-5,6 IS USM
• Lens: Canon EF 100-400mm  F/4,5-5,6 L IS USM
PHOTOS:

Sedona MapINFO: Sedona is a city that straddles the county line between Coconino and Yavapai counties in the northern Verde Valley region of the U.S. state of Arizona.
YEAR: Summer 2010
STORY:  After our helicopter adventure we left the Grand Canyon national park and started our descend back to our start point in Arizona, Phoenix. We had planned to make a quick visit in Sedona and refuel our car and stomachs as well. First we had to drive for more then one hour to reach Flagstaff, and then change direction to Sedona. We didn't expect to see so very much vegetation on this part of the trip since  we where on a similar road from Phoenix to Flagstaff. Flagstaff is situated about 2000 meter over sea level, and to reach Sedona we had to drive on a really small and speed reduced serpentine road. It was really interesting to see how vegetation and landscape gradually changed the closer we got to Sedona. In the area we saw a little stream which supplied the whole area with water,  making the vegetation and forest flourish. We passed a few view points on our descend, but due to plenty of cars in front and behind, we decided not to stop.
Sedona was a little and beautiful town located in a valley between big and reddish sandstone formations, well known as Red Rocks of Sedona. The formations appear to glow in brilliant orange and red when illuminated by the rising or setting sun. The Red Rocks present a breathtaking backdrop for everything from spiritual pursuits to the hundreds of hiking and mountain biking trails.
We parked our car with intention to find some refreshment and recharge our power. It was much colder than we expected, probably 5-10 Celsius less,  but still hot enough… around 35 C  (95F). It was late afternoon and we still had a lot off car driving to do and this made our stay quite short. We found a store with beautiful handmade Indian crafts and we bought a few silver and stone combined jewelry. On the way back just a few kilometer outside town, we made a stop on the first view point and Itook a few shots.
This short story completes our brief but eventful trip to Arizona. It is a wast land with so much to see and to discover,  and we will definitely return, and now we know exactly where to go and how long to stay…
EQUIPMENT:
• Camera: Canon EOS 5D Mark II
• Lens: Canon EF 16-35 F/2.8 L USM Mark II + circular polarizing filter
PHOTOS: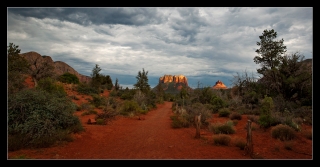 Sedona