Posts Tagged 'Horseshoe Bend'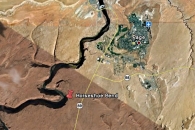 Horseshue Bend map INFO: Horseshoe Bend is the name of a horseshoe-shaped meander of the Colorado River. The place is located 6 km south of Page, Arizona.  The bend is locally known as "King Bend" and is located slightly downstream from the Glen Canyon Dam and Lake Powell (see the the map for more info).
YEAR: Summer 2010
STORY: Horseshoe bend was on my list to visit during the summer trip to Arizona. We spent a few days in the little town Page in one of the many hotels located on the main street. The weather was really hot giving us only two options of visiting the place, early in the morning or late afternoon.  July 12, 2010 was the day when we decided to visit. It was a hot afternoon (over 40C) with some clouds and chance for rain.  After 15 minutes of driving we reached the parking area with lots of parked cars. To reach  final destination we had to walk around 1 km following a little sandy road. After 15 minutes of walking a truly amazing view appeared. There was a few points where you could take pictures  with different angles, and I made a few test shots to find the best position and best setting for my camera. I always use manual settings and sometimes it can take a little bit longer to find the best possible solution. I took about 50 images before the sun reached really low, creating strong shadows and the rays was pointing directly towards me. We decided to explore the area and make a few more shots before leaving. If jou plan to wisit the place during summer, then I strongly recommend that you bring water, a hat and comfortable shoes.
EQUIPMENT:
• Camera: Canon EOS 5D Mark II
• Lens: Canon EF 16-35mm F/2.8 L USM Mark II with circular polarizing filer; Canon EF 15mm F/2.8 Fisheye;