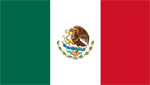 INFO: United Mexican States or Mexico is the fifth-largest country in the Americas by total area and the 14th largest independent nation in the world.  It is bordered on the north by the United States; on the south and west by the Pacific Ocean; on the southeast by Guatemala, Belize, and the Caribbean Sea; and on the east by the Gulf of Mexico. In Pre-Columbian Mesoamerica many cultures matured into advanced civilizations such as the Olmec, the Toltec, the Teotihuacan, the Zapotec, the Maya and the Aztec before the first contact with Europeans. In 1521, Spain conquered and colonized the territory, which was administered as the vice royalty of New Spain which would eventually become Mexico as the colony gained independence in 1821.
YEAR: Autumn 2001, Summer 2006 and Summer 2009.
Year 2001:I spent two weeks of my vacation on Yucatan peninsula with some friends. We where in a place called Playa del Carmen, well known as a tourists paradise and most visited by European tourists. I don't remember so many details from this trip other than visiting Merida and Uxmal pyramid area and the well known Chichén Itzá.
Summer 2006: This years plan was to visit Mexico City and the coastal city Vera Cruz. Both of these cities are rich in history with ruins from two ancient pre-Columbian cultures. First on the list were Vera Cruz which we reached after a long bus ride. We stayed for about one week. There we explored cities rich in history and its surroundings, being guided by a private tour guide who was an expert in archaeology and also a published writer.
Mexico City was a big and over-crowded city covering a huge area.  The reason for visiting  was a special location called Teotihuacan. Apart from the pyramidal structures, Teotihuacan is also known for its large residential complexes and the "Avenue of the Dead". Here we spent two days in total.
Summer 2009: This year we spent ten days on the beautiful peninsula Yucatan and Cancun, a coastal city in Mexico's easternmost state. The city center was located on the mainland which connects the Nichupté and lagoons to a narrow 7-shaped island, where the modern beachfront hotels are located in the tourist centric hotel zone. We had two adventures, the first by visiting the famous and one of the new seven wonders; Chichén Itzá and secondly Isla Mujeres. Isla Mujeres was located off the coast and was only accessible by boat from Puerto Juárez.
PHOTOS:
[Not a valid template] [Not a valid template]