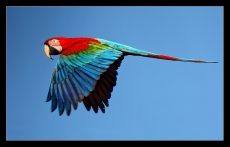 Green-winged Macaw (Ara chloropterus)
INFO: This was my second visit to the South America and Peru. The first one was in the July 2009 and now in the same month but 3 years later or in 2012. This is the first part of the trip which lasted round 8 days with some useful information and pictures. This was one of my favorite bid shots (Green winged macaw – on the right side) captured during my first visit to Peru in the area called Manu and has nothing to do with the rest of the story.
Day 1
We arrived to Lima late in the afternoon and spent the rest of the evening at the hotel making plans for our first week. The first 8 days we didn't plan at home as we usually does, but rather left them open. We wanted to visit Cusco with all important archeological sites and later also the Secret Valley. The valley is well known for all its archeological sites and Inca trails. After that we decided to visit Nazca town with the famous lines on the ground and later two more areas. The first area was Ica with its Archeological museum, lake Huachina and thereafter Paracas.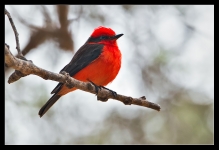 Male Vermilion Flycatcher (Pyrocephalus rubinus)Day 2
For today we had two plans, first to explore the surroundings and secondly to take a City tour and explore Lima. Lima is the largest city in Peru and the capital. We visited a few plazas and main square of Lima to take some photos. Later  we did stop at the Gregorian monastery Convent of San Francisco & its old catacombs. In the end of the tour we visited two parts of Lima mostly visited by other tourists, such as San Isidro and Miraflores.  Our guide was really good and we had good time during the tour. If you don't plan to spend more than few days in Lima then the city tour is good way to see and explore the city. For all bird lovers: the municipality of San Isidro put up signs showing birds you can watch in the olive grove. Therefore keep your eyes open, it's amazing how many different species you can find in the middle of a city like Lima. My favorite bird from this park was male Vermillion Flycatcher with his beautiful red colours (photo on the left side).
Day 3
We had an early flight from Lima to Cusco which lasted around 50 min. Cusco was little bit cold as we had expected, around 16C, but it later became warmer around 20C. After we checked into our hotel we had enough time to take a taxi to a restaurant and get some lunch before the City tour started. This excursion included the most outstanding places in Cusco, both from the Inca period and the time of the Spanish colony. First on the list was to visit the main square with its renaissance style cathedral, Coricancha, thereafter came Sacsayhuaman, Kenko, Puka-Pukara and Tombomachay.
Coricancha temple
The cathedral was known for its beautiful carvings in cedar wood cowered with silver and gold leafs. This cathedral was even known for the paintings of the Escuela Cuzquena and a variety of silver engraved objects. This wasn't my favorite place knowing that all gold and silver was stolen from the previous Inca temples and built on the same spot as well.
Coricancha was the most important temple in the Inca time and was dedicated to the Sun god. The Spanish colonists built the Church of Santo Domingo on the site, demolishing the temple and using its foundations for the cathedral.
Sacsayhuaman was built outside of Cusco city on a hill above. I personally don't believe that it was built by Inca as most of the temples and structures in Peru. You can see tree different construction styles on the many sites, and the oldest one used giant stones carved with incredible precision and later connected with each other with perfection like in the Ollantaytambo. Next stone masonry or style was still with incredible precision but with smaller but still big enough stones which matched each other with the same perfection. This style you can find in Cusco and other places in the sacred valley like Machu Picchu, were you can even find the third or Inca reparations and constructions. Most of the Inca buildings was built on top of earlier constructions and later repaired and extended during their time. They used smaller stones which we still use today in construction of our buildings, and which is much faster and easier to do, and doesn't need hundred of thousands of workers to accomplish. This is my personal theory and I strongly recommend to visit those places and make up your own mind.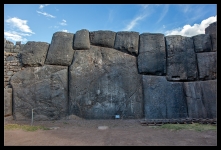 SacsayhuamanIf you believe in today's explanations based on archeological guessing and theories, then you can skip mine 🙂
Sacsayhuaman was built with giant lime stones which weighed up to 100 tones in some parts. Located on a steep hill at an altitude of 3,701 m and overlooks the city of Cusco and contains an impressive view of the valley to the southeast. No one know for sure how and why it was built and maybe we should leave it like that. I did few panorama shots of the Cusco and the stones and wasn't listening so much to the guide. During the guided tours sometimes you need to chose if you want to listen or to photographs when it is not enough with time for both… and I always chose to photograph.
Day 4
Today we had planned to visit the Sacred Valley with a few famous Inca places and small towns. All those places were located on high altitude and was a little bit difficult to walk and climb to. The guide was really good and knowledgeable and provided many interesting facts about the visited areas. We traveled in a large buss and the guide spoke only in English which most of us appreciated.  The first place to visit was a small market place in a little village close to the main road. There we had the opportunity to photograph locals in their traditional dresses with lamas and other domesticated animals and to buy their craft. Then after we visited a small farm with all kinds of lamas, alpacas, jamas, etc… with introduction  about the animals evolution, and how they came or migrated to South America.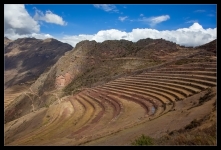 PisacNext stop was the old Inca site Pisac with great constructed agriculture terraces, buildings and even cemeteries. It was located on a really high altitude and all the tourists in our group, including myself was not so happy about that. But after we saw what this incredible place had to offer we were all pleased in the end of the visit. Here we saw the second building style and the Inca building style mixed together. After this we had lunch in some kind of big house restaurant in the middle of the nowhere. We drove through the small village with very pore scenery, and turned into a small and dusty road and suddenly we ended up in this beautiful house or restaurant with an enormous variety of food, such as salads, fruits and deserts. They even had sushi and live music in the garden, and down by the river alpacas and lamas were gracing for tourists to photograph.
After a good vegetarian lunch we went to Ollantaytambo village and archeological site. This is the only place where you can find all tree building styles together as previously explained. The biggest stones was made out of red granite and the biggest one weighed more than 120 tons. All those stones had been transported from a quarry on the opposite side of the mountain. The guide explained that Inca carved, transported and put together all those stones without having a written language, advanced mathematics knowledge and using primitive technology available for them during this time. He said that they used meteorite stones which they found on the Andean mountains to cut the extremely hard granite stones with such grate precision. I saw many tourist questioning this theory and for me this didn't make any sense at all. How and why this part of the building was constructed died together with the builders if you ask me. Later we visited the local market in Chinchero and was taught how local people make their incredibly beautiful tapestries with natural based colors. The day was over and it was time to return to Cusco.
Day 5
This day became really short. We had only time for a short visit to the main plaza for coffee at Starbucks and to get some lunch before the long bus trip to Nazca started. The stone with 12 angles was on our list from our previous visit to Cusco, but which we at that time hadn't had time to see. This time I found it and took some photos. The bus trip from Cusco to Nazca started at 2 P.M and lasted more than 14 hours. During the ride I saw some really beautiful sceneries of the Andes mountains and small towns and villages. We arrived around 5.00 AM to the bus station and expected to be picked up by the tour guide but no one was there. We were sitting in the cold bus station for more than one hour before our guide arrived. He was looking for us at the hotel which was owned by the same company which had booked our flight over the Nazca lines and expected that we were there. It was a really cold and foggy morning and our early flight over the lines was canceled until the weather had changed. There were nothing to do in this small town and even the few shops and coffee places we found was closed. We had breakfast at the hotel and was allowed to sit in reception before we received any news from the local airport. It was really cold even in the reception area and we had to sit and wait, and wait…
We found out that there where two small museums and we were recommended to visit one of them. The museum was owned by an Italian owner but didn't open until 9.00 A.M and we had to wait until then. The short walk to the main street was a good way to waste some time before we could enter the museum. Weather started to change to the better and we were happy about that.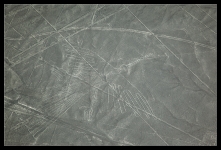 The Condor -_Nazca
The museum was nice to visit and we got some information about previous societies which lived in this area which were given credit for creating the lines and other structures. I took a few shots with my little camera and then we went back to our tourist agency to see if we were going to fly soon. After we returned we had to wait more than tree hours before we received good news from the airport.
Our flight started 12:39 PM and lasted around 30 minutes. We flew together with an older couple from Japan in a small airplane for 4 passengers. After 10 minutes I was feeling very bad and was on my way to start vomiting. I succeeded to take photos of all motives on the ground which you can see here.
After this adventure we had a good lunch in one of the towns hotel and we had to wait yet a few more hours before we could catch the bus to our next place and to go to a hotel to rest after a very long day.
After two hours by bus we arrived in the city of Ica and was transported to a beautiful small hotel. After such a long and exhausting day we went straight to bed and fell asleep.
Day 6
After good and long sleep and after the breakfast it was the time to visit few interesting places in the Ica. First we had to visit the Huschina lake. This little lake was the last one in this area and was located in the middle of the desert just few kilometers from the city.
Black-crowned Night Heron (Nycticorax nycticorax)I was surprised to see birds today and had more use of my 1D mark IV with my new lens Sigma 120-300 F/2.8. I get plenty of the bird shot and was rely happy after that specially if it wasn't expected. One of the few bird kind was Black-crowned Night Heron which you can see on the right side (photo). Later we went to the Ica archeological museum to see the areas rich history of the many past civilizations. This was the place with the elongated skulls which I was interesting to see since many years ago. We even get private guided tour inside the museum and later I did may shots of the skulls and few mummies. After this visit we went to the next place to see the old and the new way of producing the alcoholic drink called Pisco and Peruvian sweet vine. I made some photos during the guided tour and later we get the chance to prove some of the places alcoholic drinks. It was the 12 o'clock and time for the lunch. Our new place served many old Peruvian food all back to the Inca time. We are both vegetarians and get two different foods with beans and vegetables mixed with rise.
This was the last adventure and we went back to our hotel to spent few hours before the  buss tour to the next town and new adventures. The new place was the town of Paracas.
Day 7


El CandilabreAfter the early breakfast at our hotel our driver transported us to the main harbor. This was the place where our next adventure would start. The Balletas islands was the our destination which we where going to reach by fast gliding boats. Round 40 persons get the place in one of the boats and we get the place almost in the end of the boat which was the vise choice. First on the list was the El Candilabre or the big ground archeological monument carved deep in the stone surface on the one of the islands. I made few shots with my pocket camera because we where to close for my Canon 1D mark IV with Sigma 120-300 F/2.8 together with extender Sigma 1.4 which was now 168-420 mm F/4. I had my tripod with me which I couldn't use because of the lack of the space.  So I had to shot handhold from the boat without my tripod or even my Sigma hadn't IS either. I was little bit worried if my shots would be sharp knowing all that plus that boat was moving and the sea wasn't calm as well. It was really nice experience and I saw many different birds, sea lions and seals. The islands locked really special with thousands of the birds colonies and tones of the guano which was collected and exported to the USA and few more countries. This trip lasted round the two hours and was something to recommend if you wist this area.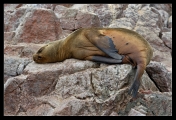 South American sea lion (Otaria flavescens)
We had few hours left four our self before our next trip to the Lima. We had a plan to visit small local exhibition of the archeological finds collected by one gentleman from Paracas. I was really interesting to see and photograph few elongated skulls and fe more artifacts with special purpose. I donated some small amount of the money and get access to photograph few skulls placed outside the glass cupboard and the gentleman explained and shoved dates which doesn't match main archeological dates. He said that most of his special artifacts was carbon 14 dated and was older more than 2000 years than main archeology usually talk or was accepted by world scientists.
Peruvian Booby (Sula variegata)
Later we where transported to the buss station to catch the bus to the Lima. The buss was late because of the straik and we had delay of more than two hours.
Day 8
Today was our resting day in Lima in the same hotel as we arrived. We liked this hotel and decided to spend or last day and the half before our trip to the Iquitos and the rainforest f the north Peru. Our flight to the Iquitos was planed for the day after in the morning. Our visit to this place would last round the 9 days
Day 9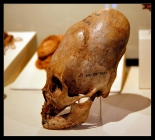 Elongated skull
We took taxi early in the morning to the airport in Lima. Our destination was the city in the north Peru with name of Iquitos. It was located in the rain forest on the bank of the Amazon river.  The flight lasted round 1:50min and we landed at the local airport round the 13:00. It was really hot and humid weather. Our hotel had a car weighing for us and other guests who booked  the same hotel. The streets where crowded with old cars and trucks and hundreds of the motorcycles and tok-tok or motorcycles with 3 whiles. We saw many old buildings from the beginning of the 20th century in very bad condition. They where still beautiful but almost ready for demolition. Few of them was restored and looked amazing. People on the streets was friendly and helpful. We spent rest of the day in our hotel resting and eating good vegetarian food…